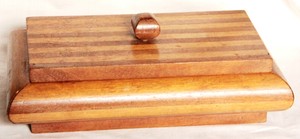 Very nice table top box, probably a cigarette box, made from strips of two different woods. There's a note taped to the underside of the lid which says "Cyprus 1953 A present from Anna's Husband" so I think we can safely assume that it's 60 years old at least. It's in pretty good condition although it does have a couple of knocks and could do with a rub down with some fine wire wool just to liven it up a bit. Also two of the mitres appear to have separated very slightly but can be closed up in a cramp. Otherwise it's a fine piece.
23.5cm x 13.5cm x 8cm Internal width is approx 8cm so probably too small for King Size!
View
here
for further information.