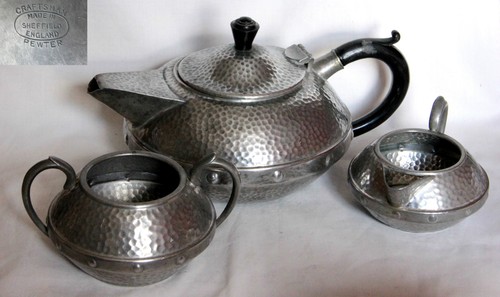 An Art Deco three-piece tea set by Craftsman of Sheffield. It comprises a squat oriental, magic lamp style tea pot, milk/cream jug and a sugar bowl. They are of a hammered finish, each with a studded band around the waist. The pot has an ornate Bakelite handle and knob. All items are in pretty good condition with the jug having only the most minor bumps, dents and scratches. The bowl is slightly flattened around its waist for about 1.5cm but is otherwise very good. The pot is also in very good condition although the base has suffered a few knocks. This is quite normal as pewter will become malleable with heat and as this has been used many times (tannin stains inside attest to this) it goes without saying that the hot surfaces will doubtless be more prone to some distortion. This may also explain why the handle is slightly off-kilter by a degree or so. Despite this it appears sound; I can't see any cracks and I have tested it with cold water which didn't reveal any leaks. The Craftsman mark was used by Viner's between 1926 and 1939 so this set can be considered a genuine vintage piece and consequently any marks and damage are consistent with its age.
All measurements approx:
Pot: 12cm tall, max diameter incl handle: 24cm
Jug: 7cm tall, 11.5 cm, max diameter,
Sugar bowl: 8cm tall, 13.5 cm max diameter incl handles.
View
here
for price information.