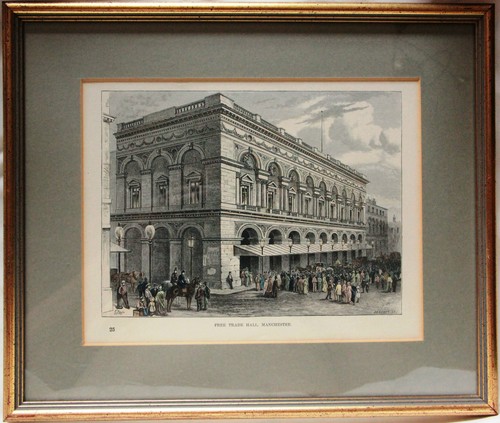 A framed and mounted print of the world renowned Free Trade Hall, Manchester. Now a hotel, it's past home of the Hallé Orchestra and venue for some of the most famous rock performances of all times, including Bob Dylan's "Judas" gig and The Sex Pistols' seminal 1976 performance in the lesser Free Trade Hall. It's by AW Scott, the engraving is initialled "EJW". Similar listings claim the original date to be 1898 and the provenance to be "Our Own Country Descriptive, Historical, Pictorial" Published by Cassell and Co. Ltd, although this book was actually mentioned in a Spectator article of 1880 so there's an immediate anomaly! Late 19th Century it is then. The plate is coloured although I cannot tell whether this is original and is annotated "Free Trade Hall, Manchester". There's also a plate or page number, 25. It's framed in a good quality gilded plain frame with wire and eyes and apart from a little edge of the backing tape peeling away the whole item is in excellent condition.
32cm x 27cm
Weight incl packaging: 1kg
View
here
for price information.