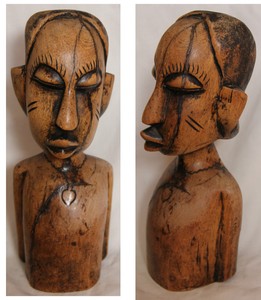 Striking and very characterful wooden bust of an African tribesperson. I'm guessing it's a woman from the facial characteristics although there are no other obvious clues, and to be fair it could quite easily be a man! She has her eyes closed and is wearing a heart shaped necklace. I doubt if it is of any great antiquity, the patina could be applied rather than earned but nevertheless it's a very nice piece, highly attractive and well executed. No damage as far as I can see - the cracks are natural and there don't appear to be any dents or knocks.
Measurements (approx)
30cm x 10cm x 12cm
Weight with packaging: 2kg - UK Bidders only.
View
here
for price information.